In-House Testing
Aerodyn have a test facility dedicated to offering global support of product development for hot air flow, vibration and spin testing
Aerodyn's state of the art test facility features vast capabilities for new product development and testing to meet our customers' needs. By coupling our extensive design, fabrication, and instrumentation capabilities, along with our LabVIEW certified engineers, Aerodyn offer the utmost support to allow for very quick test setups and delivery of results.
Vibration Testing
Aerodyn can provide a single source solution for your vibration testing needs. Our field testing expertise enables us to instrument your part, measure your component's vibration environment, and perform the data reduction. We can design and fabricate the fixtures required for your vibration shaker test through our in-house CAD, analysis, and fabrication services. Based on the measured application data, we can develop the appropriate vibration input profile and test your part. Vibration testing can also be conducted to customer supplied specifications. Vibration shaker testing can be performed on our three electrodynamic shakers equipped with slip tables.
Types of vibration shaker testing we can perform:
Sinusoidal
Random
Sine on random
Random on random
Resonance search and dwell
Classical shock
Shock response spectrum
Combined temp/vibe exposure
Resonance search and dwell
Typical applications include:
MIL-STD-810
RTCA/DO-160
Blade characterization
Testing application of strain gages to critical strain areas
Exciting blades at the modes to determine strain ratios of max strain to engine gages
Blade fatigue testing
Cold or hot (induction heating)
Modal testing
Rotating vibration testing
Combined hot gas and vibration environment with airflow up to 5kb/sec and 900°C
Equipment:
Tira 20,000 lbf shaker with slip table
ETS 15,400 lbf shaker
Thermotron 6000 lbf shaker with slip table
Wilcoxon Research D125 piezoelectric shaker
Aerodyn designed piezoelectric shaker for frequency range 2,000hz to 20,000 hz
VR controllers
Spin Testing
Aerodyn has multiple spin rig facilities (both in the US and in the UK) designed to perform a variety of spin tests on sensors and test components in the development process. We can test at high G loads and temperatures. Additionally, we can utilize our inventory of slip rings to gather rotating data during testing, or to provide power to telemetry or other active sensors.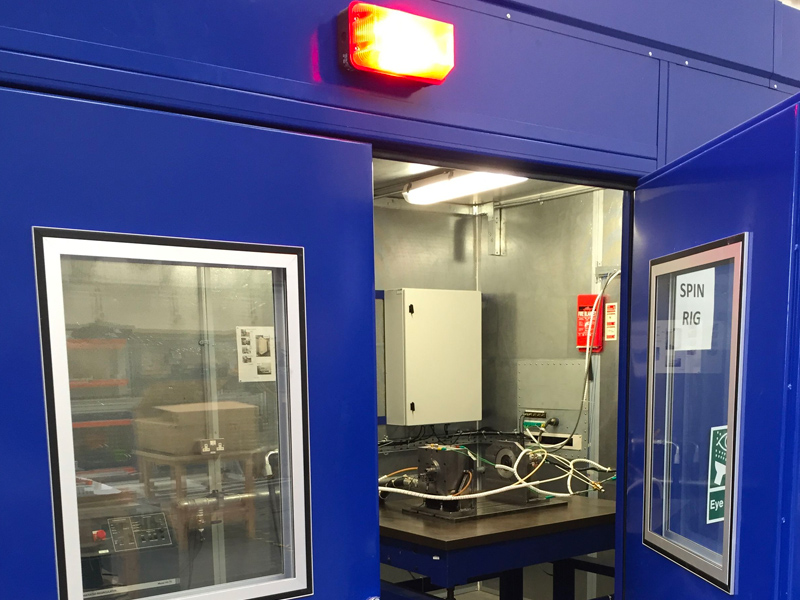 Modal Analysis & Testing
Aerodyn perform modal analysis using ME'scope™ software to determine a component's structural resonances. Forces are applied to test articles with a variety of excitation methods, including impact hammers and portable shakers. Measurements of operating deflection shapes (ODS) can be animated, an extremely valuable tool in understanding a component's vibratory responses to input forces.
We offer:
Data acquired from hardware of all sizes and complexity
Animated and graphical representation of frequency mode shapes
Verification of a component's structural response to design modifications such as bracket re-design
Correlation of analytical models to experimental results
Portable systems for on-site testing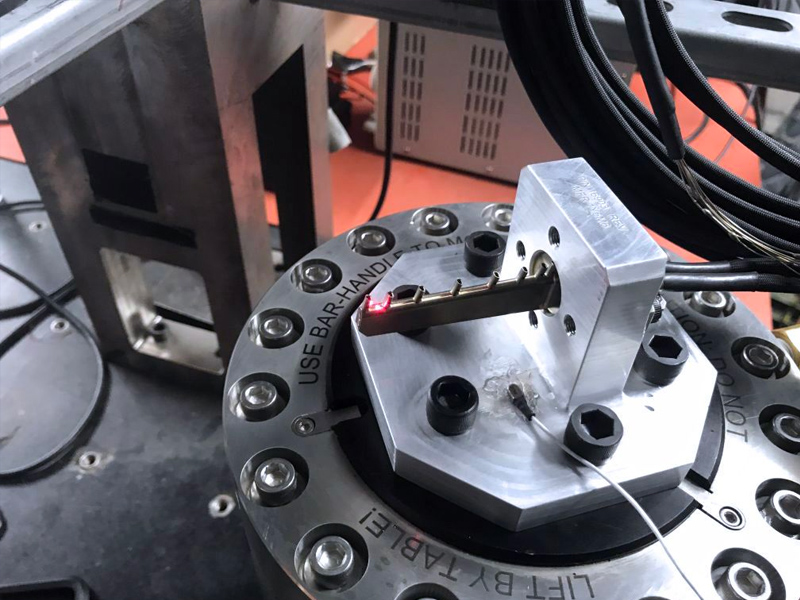 Gas Stand Testing
Mass flows to 7 kg/s (15 lbm/s) continuous on-site
Up to 900°C
8 Gas stands
Turbocharger compressor/ turbine mapping
Centrifugal compressor performance mapping
Heavily instrumented tests
Burst containment tests
LCF cycling
Thermal and pressure cycling
Pressure testing
Leakage/Flow testing
900 gallon per minute fluid flow capability
200 ton heat rejection capability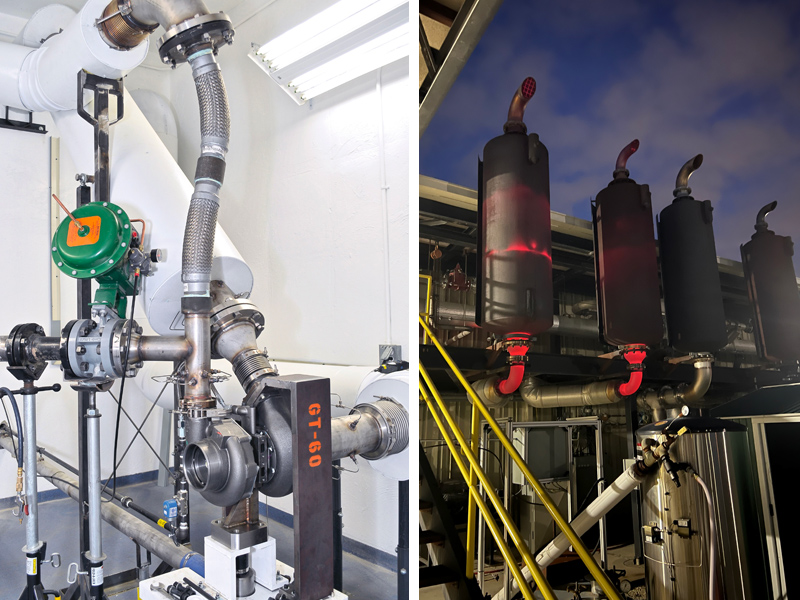 Aerodynamic Calibration
Aerodyn offer flow calibration of rakes and probes via our flow tunnel. Yaw and pitch can be varied to sub-degree increments, while temperature and pressure measurements are taken, stored, and reduced to data files and plots. This information is often vital and necessary to correctly use the rake or probe. The maximum yaw and pitch capability depends on the rake geometry. Varying nozzle diameters can produce air speeds up to .95 Mn.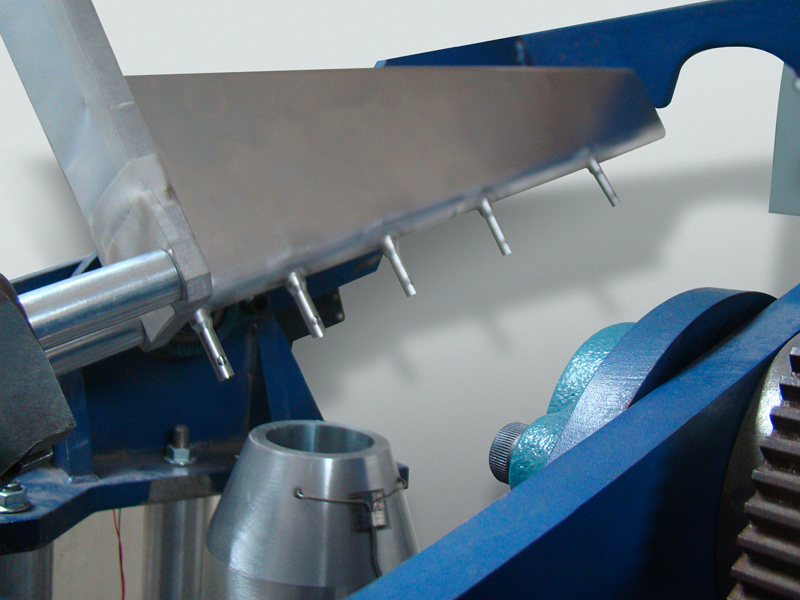 Abradable Coating Testing
Aerodyn have created a test rig designed to test the performance of abradable coatings.
Impact velocities up to 410 m/s
Temperatures up to 1600°C
Incursion rates between 1 and 2000 μm s−1
Triaxial force measurements record force during rub, along with pyrometer for temperatures.
Optical scanning and CMM measurement perform post-test analysis of the data.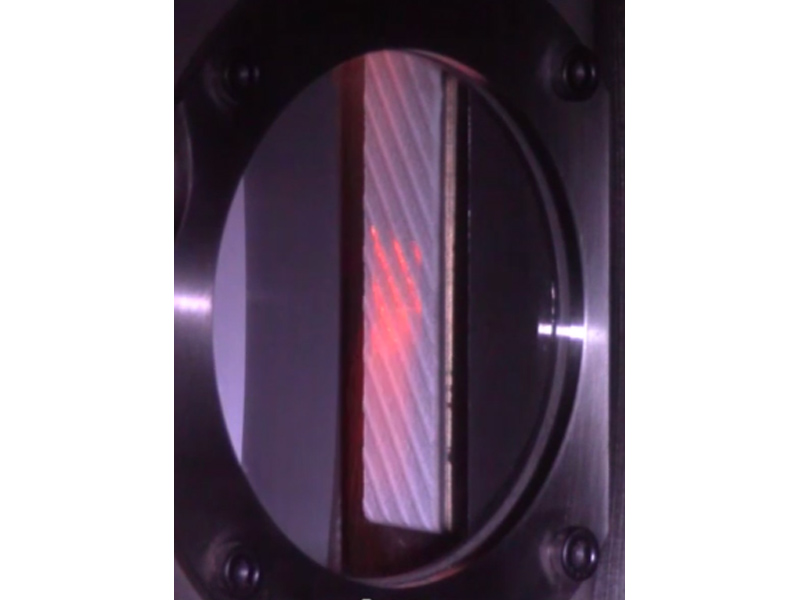 Airfoil Characterization
Aerodyn conduct airfoil analysis by means of Stress Ratio testing. Accurate determination of stress levels and locations are made by analyzing signals from an array of strain gages placed at critical locations. Vibratory modes are excited using electro-dynamic, piezoelectric, acoustical, and air siren equipment.
We can provide:
Dynamic strain measurements at numerous locations over a frequency range of 10 Hz to 25 kHz
Correlation of predicted stress locations for individual modes using Ansys™ and GageMap™
Strain amplitude ratios relative to reference gages provided for all frequency modes of interest
Correlation of tip deflection to maximum strain for response modes
High cycle fatigue testing (HCF) providing strain levels and tip deflections of airfoils to failure
---
Downloads
Download our Single Source of Support brochure.
Speak with a Specialist
Get in touch with one of our experts in Design and Analysis, High Precision Manufacturing, Instrumentation, Assembly & Testing.